I'm still going to do my review of every book I read like I do every year, but I thought it'd be fun to do this survey that Jamie at Perpetual Page Turner hosts as well!
Number of books I read: Currently, 109, but the year's not over yet!
Genre I read the most from: Contemporary, with 45.
Best in Books
1. Best book I read in 2014: Aside from my rereads, it was probably Charm and Strange by Stephanie Kuehn, and The Dream Thieves by Maggie Stiefvater is not too far behind.
2. Book I was excited about and thought I was going to love more but didn't: How to Love by Katie Cotugno. It had quite a bit of hype and I thought it would be a heartwarming YA romance similar to those by Rainbow Rowell or Stephanie Perkins, but alas, it was not and it was kind of odd and I didn't really enjoy it.
3. Most surprising (in a good way or a bad way) book I read in 2014: I'm never really surprised when books turn out to be bad, but probably Ender's Game by Orson Scott Card. THAT ENDING. I cannot get over it.
4. Book you "pushed" the most people to read (and they did) in 2014: Jellicoe Road by Melina Marchetta, always. But I also got my mom and brother to read The Grisha Trilogy.
5. Best series you started in 2014? The Grisha Trilogy by Leigh Bardugo. Best Sequel of 2014? The Dream Thieves by Maggie Stiefvater. Best Series Ender of 2014? Shades of Earth by Beth Revis, finale to her Across the Universe sci-fi series. THAT is how you finish a trilogy, Veronica Roth.
6. Favourite new author you discovered in 2014? Maggie Stiefvater! Thank you, Lisa.
7. Best book from a genre you don't typically read/was out of your comfort zone? Definitely Charm and Strange by Stephanie Kuehn. I'm not super into thrillers or anything to do with werewolves, but it was so brilliant. An achingly awful subject, but so well crafted.
8. Most action-packed/unputdownable/thrilling book of the year? That would have to be Charm and Strange again, although The Eternal Ones by Kirsten Miller was pretty unpredictable and it was nice because somehow I've been reading a lot of predictable books lately.
9. Book I read in 2014 that I'm likely going to reread next year: Well, I'm pretty much always guaranteed to reread Melina Marchetta, Megan Whalen Turner, The Raven Cycle, Harry Potter, or Okay for Now by Gary D Schmidt. But as for first time reads, I want to read All Our Yesterdays by Cristin Terrill again!
10. Favourite cover of a book I read in 2014?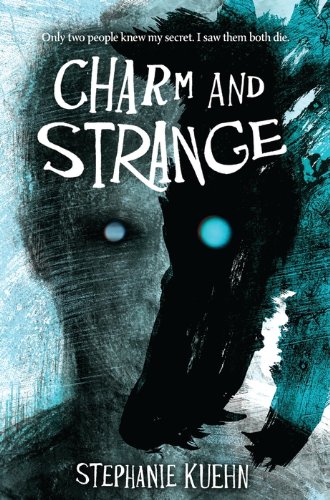 11. Most memorable character of 2014? Ronan Lynch.
12. Most beautifully written book read in 2014? Charm and Strange, but also The Secret History by Donna Tartt. Such beautiful prose.
13. Most thought-provoking/life-changing book of 2014? Aside from Charm and Strange, definitely Five Days At Memorial by Sheri Fink, which not only made me think of what it was like for people during Hurricane Katrina, but also made me think about the intricacies of the concept of euthanasia and that whole debate, as well as how intricately complicated court cases are and the relationship between that and what is presented by the media. Such an interesting book.
14. Book I can't believe I waited until 2014 to finally read? Shadow and Bone by Leigh Bardugo! There was so much hype and for some reason I put it off, but thankfully it lived up to it's hype! I think it needs to be the next big YA that everyone is talking about (a la The Hunger Games, Divergent and John Green).
15. Favourite passage/quote from a book you read in 2014?
"The snow in the mountains was melting and Bunny had been dead for several weeks before we came to understand the gravity of our situation. He'd been dead for ten days before they found him, you know. It was one of the biggest manhunts in Vermont history-state troopers, the FBI, even an army helicopter; the college closed, the dye factory in Hampden shut down, people coming from New Hampshire, upstate New York, as far away as Boston.
It is difficult to believe that Henry's modest plan could have worked so well despite these unforeseen events. We hadn't intended to hide the body where it couldn't be found. In fact, we hadn't hidden it at all but had simply left it where it fell in hopes that some luckless passer-by would stumble over it before anyone even noticed it was missing. This was a tale that told itself simply and well: the loose rocks, the body at the bottom of the ravine with a clean break in the neck, and the muddy skidmarks of dug-in heels all the way down; a hiking accident, no more, no less, and it might have been left at that, at quiet tears and a small funeral, had it not been for the snow that fell that night; it covered him without a trace, and ten days later, when the thaw finally came, the state troopers and the FBI and the searchers from the town all saw that they had been walking back and forth over his body until the snow above it was packed down with ice."
That's the first two paragraphs in The Secret History by Donna Tartt. Such good writing. I love that line about the state troopers walking back and forth over top of the body. Shivers.
16. Shortest book I read in 2014? Dealing With Dragons by Patricia C Wrede, a cute MG fantasy. Longest book I read in 2014? Five Days at Memorial by Sheri Fink. It's like 800 pages (but worth it).
17. Book that shocked me the most: Ender's Game by Orson Scott Card. I did not see that ending coming at all (although looking back, I definitely should have).
18. OTP (one true pair) of the year: Probably Blue and Gansey, doomed as they are. ;)
19. Favourite non-romantic relationship of the year: Fia and Annie from Mind Games by Kiersten White. I'm a sucker for good family relationship dynamics.
20. Favourite book you read in 2014 from an author you've read previously: What Came From the Stars by Gary D Schmidt. Gary D Schmidt knows how to write brilliant, refreshing, and hopeful MG. I think he's definitely my favourite MG author.
21. Best book I read in 2014 based solely on on a recommendation from someone else/peer pressure: The Secret History and The Raven Cycle was recommended indirectly by Lisa, and Grave Mercy by Robin LaFevers was recommended indirectly by Shae.
22. Newest fictional crush from a book I read in 2014: I don't know... Levi from Fangirl by Rainbow Rowell?
23. Best 2014 debut I read: I didn't read any 2014 debuts, but the best book I read that was published in 2014 was The Winner's Curse by Marie Rutoski!
24. Best worldbuilding/most vivid setting I read this year: The Russian-inspired setting of The Grisha Trilogy was pretty awesome, but I also just read a cute MG fantasy called The Last Dragonslayer by Jasper Fforde that felt like getting thrown into a fully formed, magical world.
25. Book that put a smile on my face/was the most fun to read: Probably Forever With You and Home of Our Hearts by Robin Jones Gunn. Warm, fuzzy and fun reads.
26. Book that made me cry or almost cry in 2014: Charm and Strange by Stephanie Kuehn. Such a beautifully written, heartbreakingly awful book.
27. Hidden gem of the year: The Opposite of Tidy by Carrie Mac. A cute story about a girl who lives with a hoarding mother. And it's set in Canada!
28. Book that crushed my soul: Charm and Strange or The Secret History.
29. Most unique book I read in 2014: The Days of the King by Filip Florian. A very articulate cat that writes passages of wisdom with his claws on furniture is very unique.
30. Book that made me the most mad: Either Wildefire by Karsten Knight, Ultraviolet by R.J. Anderson, How to Say Goodbye in Robot by Natalie Standiford, or Blackbird by Chuck Wendig. Blackbird wins for infuriating me the most, though.
Stay tuned for tomorrow when I post part 2, which focuses on my blogging and bookish life and looking ahead to 2015, and then come back January 1 for my year-end review!