So a few days ago I finished the second draft (yay!) of this story... er, book, I guess... that I've been working on for a while. The first draft sucked and I showed no one (and I will show no one), but once I finished my second draft I sent it off to my best friend and favourite person to send stories to.
Of course, after a couple of years of only me knowing about this story and the characters in it and such, I wanted to talk about it. One of the things I wanted to know was how my friend pictured the characters, purely for curiosity's sake.
There was one character that I clearly described as having darker skin, dark hair and dark eyes. My friend said she pictured him as being blonde. Even though I clearly described him as, well, not blonde.
And to be honest, when I first read The Hunger Games, I pictured Katniss blonde, I don't know why, even though she's not. I'm sure there's lots of people who picture characters differently than they are described, even if things like hair colour and such are clearly described. Yeah, sometimes our brains just skip over stuff when we're reading. But I think more of it is just our imagination taking the story and running with it. It's us as readers using our imagination to make it our own.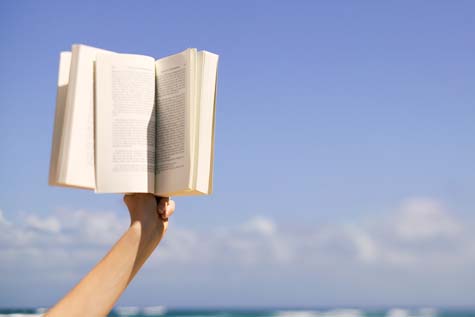 That's one thing that I really love about books. There is so much that YOU have to do. You have to read it, you have to process it, you have to imagine everything, YOU have to bring everything to life. Yes, it's a lot of work (for some people maybe :D). But it's worth it, and I think all the more because of all that work that we put into the experience of reading.
When I was, I don't know, nine years old, I remember one time after school I was waiting for my parents to pick me up or something, with one of my friends. I was talking about some story I was working on, that she might have read, and I remember she pronounced one of the character's name's wrong or something, and I corrected her, insisting that because I wrote it, MY interpretation of the story was the RIGHT one. (I had a very big ego as a young writer apparently).
Since then, my view has flipped. Now, I don't think that author of a book holds the "right" interpretation of the book they wrote. I also don't think that a book, once given to people to read, belongs solely to the author anymore.
Anyway, an interpretation is just that - an interpretation. Each reader is different, and each reader's imagination creates things in a different way. That's why I think even if the author clearly describes someone's hair as blonde, it's completely fine if maybe someone imagines that character as having red hair.
Just some thoughts.
Have you ever imagined something in a book different than it's described?
Oh! And... I got twitter (although I'm still learning how to use it...). You can follow me @AlyssaSherlock, so I can follow you! Have a great day!